Our Chalets
More healthy space
With our chalets we want to offer our guests more healthy space consisting of the elements wood, fire, earth and air. They are surrounded by the wood used to construct the chalets, while they enjoy the pleasant warmth of the fire in the wood burner, feel the earth grounding them in their private garden, and breathe in the healthy mountain air.
In our chalets one feels at "home", but not "at home".
The chalets were built from a wooden frame construction. You will be living in wood, the most natural and healthy construction type which exists.
We heat the chalets with nearby heat energy from a regional heating system. The chalets are insulated with sheep wool.
Ground Floor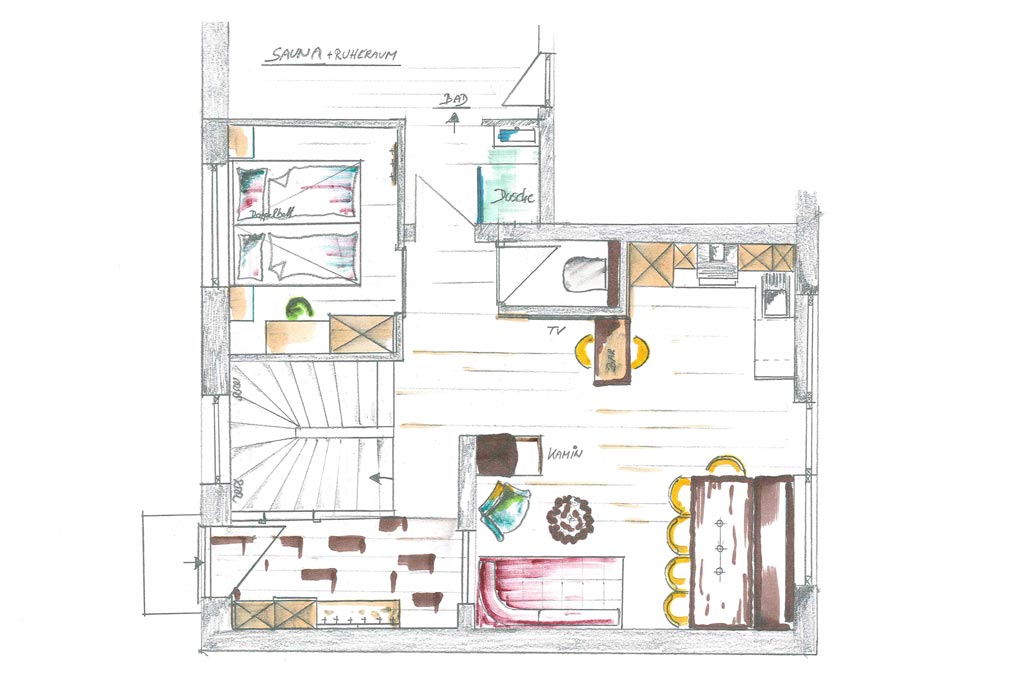 » Download Layout Ground Floor
Top Floor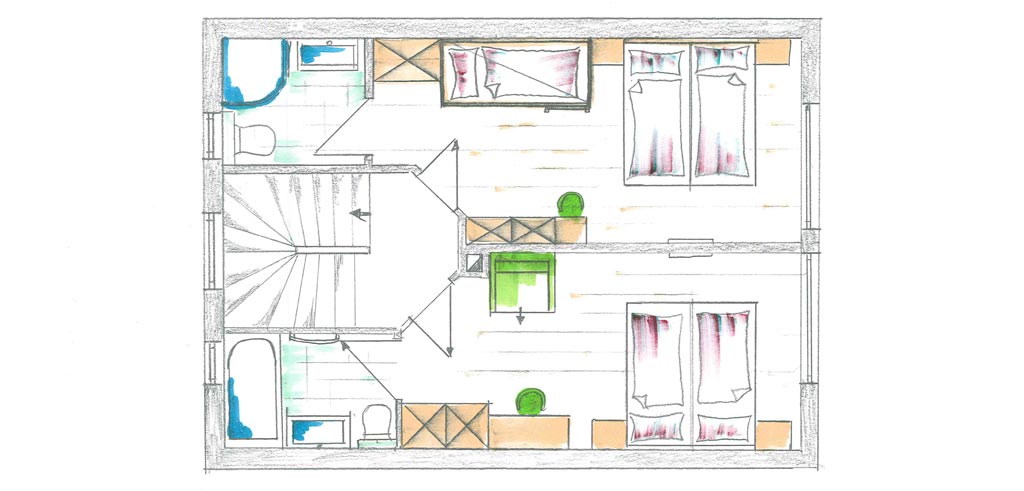 Our chalets offer you the space to unwind in a cosy and comfortable atmosphere.
110 m² holiday enjoyment with optimal room layout
Modern alpine living style (for 4-8 people)
3 seperate bedrooms with comfortable boy spring beds
3 bedrooms with shower or bath tub and WC
A seperate WC on the ground floor
A large, comfortable living room with wood burning stove
A fully equipped kitchen with every comfort
Fully automatic coffee machine in the kitchen
Privat sauna with entry to the garden
Nice south facing terrace with garden
Separate ski and drying room
A "tablet" per chalet for free use and free W-Lan
Flat-TVs in all rooms
A fully equipped childrens play room in the cellar
We consciously decided to build out of wooden frames.
Healthy, natural indoor climate
A nice smell of wood in the chalet
Larch wood is very durable - exactly right for the alpine climate
Low energy consumption due to sustainable insulation
Construction is regionally anchored and fits into our alpine surroundings
Focus on native craftmanships
Summer 2020
Basic price up to 6 people
Summer

seasons

Summer

price

Low Season

25.05.20 – 28.06.20

EUR 200.–

Main Season

29.06.20 – 31.08.20

EUR 250.–

Low Season

13.09.20 – 04.10.20

EUR 200.–

closed

31.08.20 – 13.09.20
Winter 2019|2020
Basic price up to 6 People
Winter

seasons

Winter

price

Pre-Christmas

13.12.19 – 21.12.19

EUR 300.–

Christmas

21.12.19 – 28.12.19

EUR 500.–

New years Eve

28.12.19 – 04.01.20

EUR 520.–

Hessen-Week

04.01.20 – 11.01.20

EUR 445.–

Mid Season

11.01.20 – 01.02.20

EUR 345.–

High Season

12.02.20 – 07.03.20

EUR 450.–

Low Season

07.03.20 – 28.03.20

EUR 345.–

Easter Season

28.03.20 – 12.04.20

EUR 390.–
Our prices are quoted in EURO per chalet and day.
The given price is a basic price for up to 6 people.
Every further person from the age of 12 pays EUR 25.– per day.
Children up to the age of six are free of charge, children from 6 – 11,9 pay EUR 12.– per day
One-off end of stay cleaning fee EUR 165.–
Tourism levy from the age of 15 the tax amounts to EUR 2.– per person
In der Hauptsaison können Aufschläge berechnet werden.
Arrival and departure
In the main winter season it is only possible to arrive and leave on Saturdays.
During mid season you are very welcome to book from Saturday to Wednesday and Wednesday to Saturday.
In low season you can arrive and leave any day.
In summer it is possible to arrive on any day.
Minimum stay
2 nights in low season
3 nights in high season
Cancellations
For bookings and cancellations the General terms and conditions for hoteliers apply.
We recommend that you take out a travel cancellation insurance policy. This will provide you with peace of mind in case of illness or other circumstances.